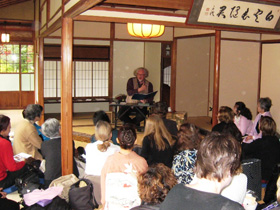 Stuart's lecture to Yokohama Minami Women's Circle celebrating the 1,000th anniversary of "The Tale of Genji" (Sankei-en Garden)
Most of our work is related to cross-cultural and bilingual activities, whether it be translating, interpreting, narrating, or writing of various kinds. This is often very challenging, but also stimulating: finding verbal equivalents to the nuances of a different language: discovering ways of thinking and behaviour that are sometimes identical, but sometimes very different; investigating why things are the way they are, and why people behave the way they do, etc. And we often make rediscoveries about our own culture in the process.
Recent articles for The Japan Times on Hyakunin Isshu, the Tokyo Globe Theatre, and the Kabuki play Kanjincho:

http://www.japantimes.co.jp/life/2012/12/30/life/the-wonderful-worlds-of-100-waka/
http://www.japantimes.co.jp/culture/2013/12/11/stage/tokyos-fayrest-that-ever-was/#.UzOad6V33cM

http://www.japantimes.co.jp/culture/2014/01/08/stage/hop-step-and-thump/#.UzObK6V33cM


Playing an android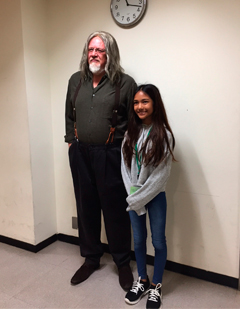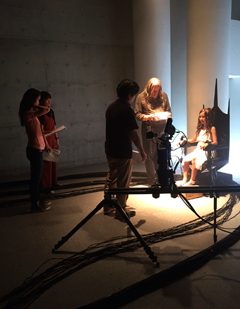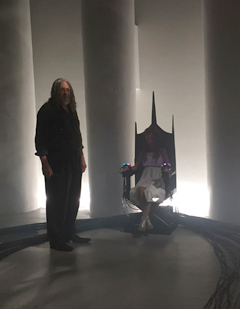 In the summer of 2018, I was delighted to be offered the chance to appear as an actor in the "Future version" of NHK's 3-part documentary series Jinrui Tanjo telling the story of Homo sapiens. It had been decided to replace the studio talk segments of the original Japanese version with a futuristic drama, featuring an English-speaking android character called 'Doc' teaching a young girl all about the history of her DNA. As 'Doc', I didn't have to act in robot fashion, but rather as an elderly human with long hair and a beard who, being an Android, eventually ran out of battery power.
And so I found myself standing on a Miura Peninsula clifftop on a boiling hot summer day with the ocean breeze blowing my shoulder-length wig constantly into my mouth. My fellow performer was a charming 10-year-old girl with a Japanese mother and Bangladeshi father. The rest of the filming was done in an equally hot all-concrete studio in the suburbs of Tokyo. I was blessed with a considerate film crew who provided constant shade, fanning and cool towels.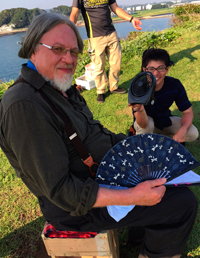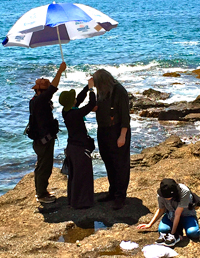 But there was an additional challenge: I was also asked to narrate various parts of the video sections in Japanese. Well, I have no qualms about describing myself as a British English narrator, but it was my first ever major narrating task in Japanese. I can only hope the pronunciation was not entirely disastrous. Happily, being a human, I can report that at least my batteries held to the end of the recording.
And an interesting titbit learned from the programmes is that more than 2% of the DNA of all Japanese people is Neanderthal!
Walking with Writers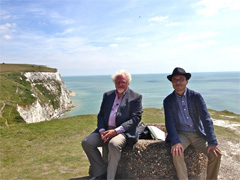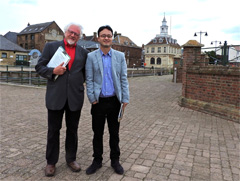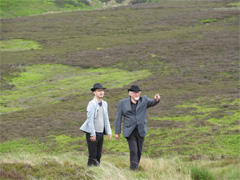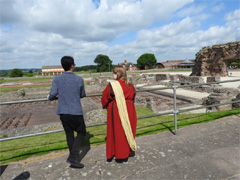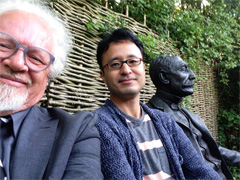 Two years in the making, covering a time frame from the 12th to the 20th centuries, including extracts from the works of writers as diverse as Chaucer, Shakespeare, Lewis Carroll, Beatrix Potter and T. S. Eliot, and featuring footage of a 1,000-mile literary journey around England in the summer of 2015... The Open University of Japan series of programmes titled "Walking with Writers" went on air for the first time in April 2016. It will be re-broadcast until just before the Tokyo Olympics in 2020.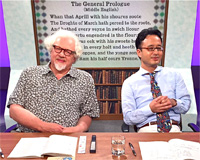 Atsushi Iguchi and I had previously worked together on the "Jissen Eigo ('10)" and "A Wild Pronunciation Chase ('12)" series of educational programmes, both produced entirely in Japan, but this time we were lucky to have the chance to film in England. The concept was to introduce the works of distinguished English writers along with locations associated with them. It was far from easy for us to select which writers and which works to cover from the rich list of possibilities. We decided that the inclusion of Welsh, Scottish and Irish writers would widen the field too much, so we restricted our journey to England. In fact, we changed our selection many times as we gradually pieced together a meaningful circular tour which included a wide selection of writers and environments, some ancient, some modern, some household names, other less familiar, male and female. For us both it turned out to be a fascinating process, not only discovering and re-discovering writers and works, but also visiting new locations.
In the end, we managed to incorporate some cultural elements we had never imagined at the start: enjoying afternoon tea sitting in deckchairs at the tea gardens popularized by the poet Rupert Brooke; a discourse on the many meanings of the term 'pudding'; a guided tour of the Daito Bunka University replica of Beatrix Potter's famous home in Saitama; a tour of the Wroxeter Roman ruins by the manageress in Roman costume; a visit to the beautiful ancient city of Worcester to follow in the footsteps of the composer Edward Elgar; a look at the family home of 'Lawrence of Arabia' in Oxford; and extracts from the unpublished First World War diary of my grandfather, Harry Atkin, with the German bugle he found on the battlefield in 1915.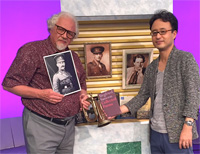 We just hope that the OUJ students of English taking the course will find it instructive and all those others who watch it will find it as stimulating as we did creating it together.
The Rebirth of Tohoku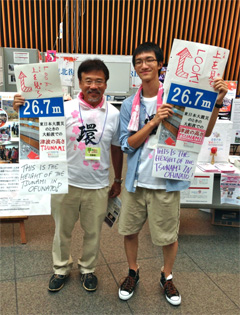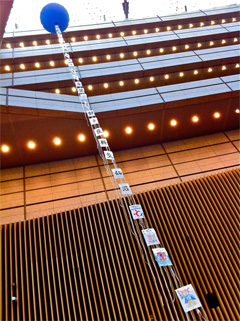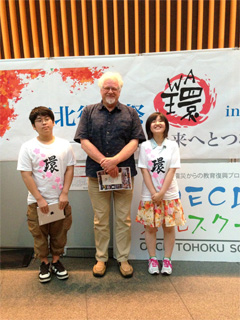 In March 2011, Yoko and I translated, and I narrated, the English version of a documentary programme titled 'Do you know how scary a tsunami is?' for the Japanese Government Internet TV. (http://nettv.gov-online.go.jp/eng/prg/prg2040.html)
It gave a very clear explanation of the dynamics of tsunamis and explained how even a relatively small one can cause tremendous damage.
It included two chilling points: a tsunami with a height of just 20-30 centimeters can knock you off your feet; and when a tsunami reaches land, it's travelling at a speed just faster than any human can run, so if you see a tsunami approaching, your chances of escape are very low. The programme was uploaded on March 10th; the shocking Great East Japan Earthquake and tsunami occurred the next day.
During the five years since then, we have had the honor of working on translations and narrations for many programmes broadcast in English on NHK World TV and bilingually on NHK-BS in Japan. They began with several special programmes in 2011, including 'Jazz for Japan' featuring the American jazz pianist Bob James. It launched a series of 'Music for TOMORROW' programmes featuring concerts of support for the earthquake victims promoted by Bob that continues today. (The latest concert in Fukushima was broadcast in three parts in March 2016.)
Then, from April 2012, the NHK World TV series titled 'TOMORROW' was started 'to investigate how those who experienced the disaster are rebuilding their lives and stepping forward toward a better tomorrow, and dispatch to the world wisdom and lessons on how to survive such hardships'. During the first year, the reporters included world-renowned figures in various fields, such as singers Jane Birkin and Cyndi Lauper, fashion designer Paul Smith, pianist Stanislav Bunin and film director John Woo. The second series from 2013-2014 featured many international reporters, and Japan-based reporters hosted the programmes from 2014 to 2016. The total number of programmes was around 100, and I was honoured to be the English narrator for most of them.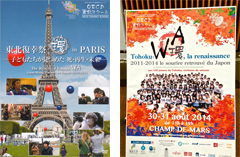 Some of the programmes followed the ongoing stories of particular groups of earthquake victims. One of them focused on the OECD Tohoku School for junior high and high school students directly affected by the disaster that was established with the aim of helping them overcome their psychological scars and 'fostering leaders who can take action with an independent spirit'. The TOMORROW programmes reported on their preparations for a huge presentation at the foot of the Eiffel Tower in Paris to promote the students' local areas, titled 'The Rebirth of Tohoku – WA'. Held in August 2014, it was attended by 150,000 people.
It was an extraordinary experience for me to be invited to report on their final preparations for a special programme. First, I met and interviewed several of the students at a preliminary event held at the International Forum in Tokyo, which included a balloon flying to a height of 26.7 metres, the terrifying height of the tsunami that struck Ofunato.
I then visited two participants in the port of Otsusuchi-cho in Iwate, which suffered terrible tsunami damage, shortly before they headed for France. I was deeply moved by the terrible devastation of their beautiful hometown, the personal tragedies they had suffered, and their tremendous drive to move forward. I had the chance to help them with their presentations in English and French based on the message of 'Living your present life more carefully'. One of them took me to the site of his family home: just an empty site covered in weeds. He had seen it washed away on March 11th, 2011.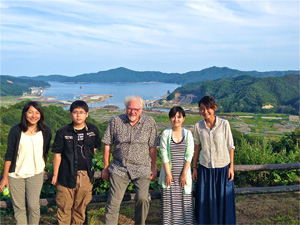 I also met a girl whose family had been driven out of the area following the nuclear accident in Fukushima, and was studying far away in Aizu-Wakamatsu, although her father was still working at the Fukushima Dai-ichi Nuclear Power Plant. Her message: "There are possibilities around you. I have come to think I would like to value my relationship and time with my family and friends, because I don't know when or how I will lose them."
The TOMORROW series dealt with all kinds of themes related to the disaster and its aftermath, including many pointers on how to respond to future disasters wherever they may happen in the world. The regular programmes ended in March 2016, but the struggles of the people in Tohoku go on, and they hope the world will not forget them. There are, however, likely to be more special programmes in the future, including 'Music for TOMORROW' concerts. As Bob James said in one of the programmes: "So much still needs to be done."
The House of the Secret Codes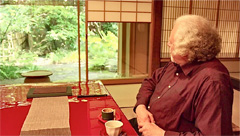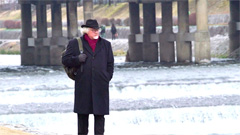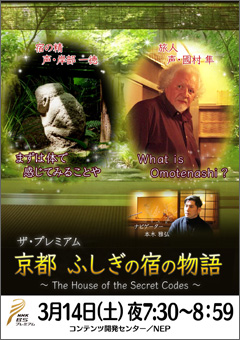 I was happy to be given the very unusual chance of partaking in an intimate look at the inner workings of one of Kyoto's most famous ryokan inns, Tawaraya, for an 89-minute NHK BS Special documentary programme, first broadcast in March 2015, and re-broadcast in a 59-minute version in March 2016. It continues to be re-broadcast periodically. A 49-minute version has also been produced for worldwide viewing on NHK World TV.
The concept of the programme was a consideration of traditional Japanese hospitality (omotenashi) as exemplified by an inn dating back over 300 years which incorporates many modern touches. I played the role of a foreign journalist full of questions about omotenashi, and actor Masahiro Motoki appeared as the 'navigator' in the Japanese versions. It was a major production, with the crew filming over a whole year in order to cover all the seasonal changes in Kyoto and inside the inn itself; I visited six times from May 2014 until February 2015.
The experience set me thinking about the similarities between such a traditional family-run ryokan and the traditional English country house system, as portrayed in the recent British TV series "Downton Abbey": what they have in common is a system organized with wonderful fluidity, all the way from the family who run the whole operation to the footwear attendants, maids, laundry maids, carpenters, chefs, and gardeners. Every time I visited Tawaraya, the organization was moving with tremendous speed, efficiency and professionalism; it was traditional Japanese culture in perfect harmony with the needs of the modern guest.
For a taste of the inn without actually spending the night there, I would recommend visiting the related shop and café located just around the corner. At Gallery Yukei, you can find many exclusive Tawaraya-designed items, including the famous soap, towels, bags, glassware, etc. And at Yukei Salon de The, an elegantly converted machiya town house, the delicacies you can sample include Tawaraya's warabi-mochi (sweet jelly dumplings made from bracken starch) and superb cooked-while-you-wait bacon-and-egg sandwiches. Delicious, relaxing, and, just like the inn itself, quintessentially Kyoto, traditional and modern, Japanese and Western!
An Olympic Presentation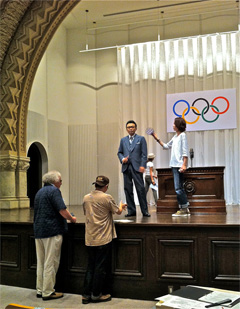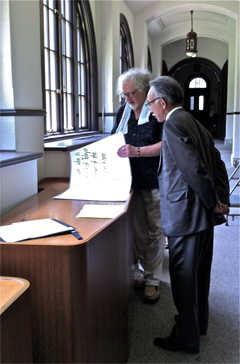 A three-part NHK documentary series focusing on the 1964 Tokyo Olympics was aired in August 2013 (dir. Masafumi Endo), just before the JOC's final presentation in its bid to host the 2020 Olympics. It included a reconstruction of the fascinating but little known historical events that led up to a presentation to the IOC in 1959 that helped to clinch the success of Tokyo's bid. It was made by former diplomat and NHK announcer Kazushige Hirasawa, then aged 50.
The mini-drama included extracts from Hirasawa's actual speech, which he created based on several inspirational moments.
Twenty years earlier he had talked to the great Jigoro Kano, the first Japanese member of the IOC and the "Father of Judo", who had been involved in the bid for the 1940 Tokyo Olympics that were cancelled because of the War. On the Hikawa Maru heading for Yokohama, Kano had told Hirasawa that direct personal contacts were essential for gaining mutual international understanding. Kano died on board just two days before they reached Yokohama. Hirasawa never forgot his words.
As an NHK commentator, Hirasawa believed that an effective presentation should be 90% easy to understand and the remaining 10% should include something unexpected. It was his daughter who came up with the "unexpected" element for the speech he was suddenly called upon to deliver to the IOC in 1959; she remembered that her primary school textbook had included seven pages about the Olympics. Hirasawa knew at once he must use that textbook!
He also remembered Kano pointing out that to many Europeans and Americans, Japan was still "Far East". The word "far" became a crucial element in the speech.
It was a pleasure to be able to coach the actors Kazuyuki Aijima (Hirasawa) and Chukichi Kubo (Governor Azuma). It was not just a question of English pronunciation; we discussed together how they might have made their presentations. We knew Hirasawa's actual words, but how did he deliver them? How did he manage to make a speech only 15 minutes long in English so interesting, persuasive and effective, in the low-tech days long before the Steve Jobs presentation style became popular?
Location filming was done in the splendid Kanematsu Auditorium built in the 1930s at Hitotsubashi University in Kunitachi and on board the real Hikawa Maru in Yokohama.
DISCOVER the SPIRIT of JAPAN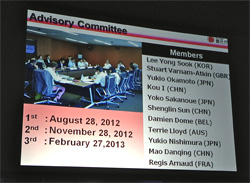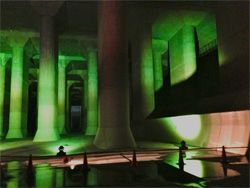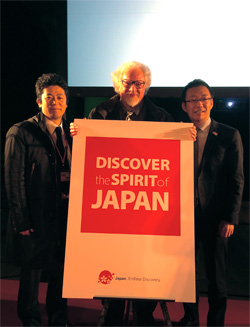 From the summer of 2012 until the spring of 2013, I had the honour of being a member of the Advisory Committee on the "Universal Appeal of Japan" Project organised by the Japan Tourism Agency of the Ministry of Land, Infrastructure Transport and Tourism. With the basic aim of entering an era with an annual total of at least 10 million foreign visitors to Japan, the decision was made to launch a totally new campaign from 2013. Up to now, Japan's promotion has been vigorous, but it's been largely based on what the Japanese themselves think are the attractive aspects of Japan that appeal most to foreigners.
The committee included members of seven different nationalities, including Chinese, Koreans, and Europeans, all with long experience in Japan related to the needs and interests of tourists, as well as Japanese members with considerable international experience. We were all asked to express our opinions frankly on what will attract more tourists to Japan.
There was general agreement that finding some kind of "universal appeal" was extremely difficult. However, the panelists all felt that the real attractions for most nationalities, besides visiting the obvious tourist locations, included food, reasonable prices and, most significantly, Japanese people. The general conclusion was that the focus of the campaign should be on promotion of the dynamism, creativity and hospitality of the Japanese people, and also the chance to enjoy all kinds of everyday Japanese experiences, ranging from izakaya to subway rides, pachinko parlours to department food floors, food "samples" to vending machines, as well as participation in activities such as dressing up as samurai, geisha or anime characters, being ninja, trying a rickshaw ride, and lots of other fun activities that are not readily available anywhere else.
The result of the lively discussions has been the production of a stimulating primary video focused on the irresistible rhythms of Awa Odori dancing, many new thematic and regional videos, and new publications including a splendid new tourist booklet.
After all our discussions, we agreed that the new message that should be promoted was "Discover the Spirit of Japan"—which includes the spirit of creativity, the spirit of hospitality, the spirit of dynamism, and indeed the "gambaru" spirit!
I was also happy to attend the launch event in March held in conjunction with the JNTO at the extraordinary underground facility with the impressive name of "The Surge Tank of the Metropolitan Area Underground Discharge Channel" in Kasukabe City, Saitama Prefecture, a tourist attraction in its own right.
The "Visit Japan" website includes videos on every corner of Japan and many aspects of Japanese culture, plus all kinds of tourist information:
P.S. The target figure of 10,000,000 foreign visitors was achieved in 2013, and the number is now approaching 30,000,000!
*Kenji Miyazawa's "Restaurant of Many Orders"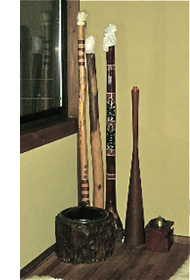 Didgeridoos at a friend's house in Gokasho, Shiga
Having previously worked with Yoko on several translations of Miyazawa stories, I was delighted to be asked to produce an English version of "The Restaurant of Many Orders" for the recital workshop I hold with the rodoku performer Ro Kodama at Kanda Gaigo Daigaku. After several months of rehearsals, we presented a bilingual version of the story at the Hakuhinkan Theatre on June 20th, 2010.
At the annual Japan Rodoku Association event, the recitals are usually in Japanese, usually by only one narrator. And the majority of them are women!
Ro Kodama, however is keen on experimenting with recitals by large groups and in more than one language, which is always an interesting exercise. We've previously worked together on bilingual versions of Miyazawa's Gorsch the Cellist and The Nighthawk Star as well as a unique 9-language version of part of The Tale of Genji at the Hakuhinkan Theatre in 2008. He likes to vary the reciting pattern, sometimes putting the English before the Japanese, sometimes the other way round.
In this recital, only two of us were native speakers of English. We read the dialogue of the two hunters, while some of the Japanese performers presented the cat voices and "orders" in English as well as Japanese. Two other features of the recital were narrators from Tohoku using Tohoku dialect to match the original Miyazawa script, and also evocative music and sound effects recorded for us by digeridoo specialist Nobu, who had also kindly attended a rehearsal to demonstrate that extraordinary Australian instrument.